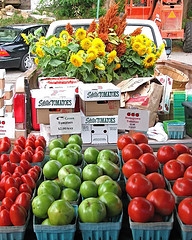 Do Food Miles Make a Difference to Global Warming?
Environmental News Network
October 17, 2007
By Deborah Zabarenko,
photograph from article
WASHINGTON (Reuters) - The U.S. local food movement -- which used to be elite, expensive and mostly coastal -- has gone mainstream, with a boost from environmentalists who reckon that eating what grows nearby cuts down on global warming.
But do food miles -- the distance edibles travel from farm to plate -- give an accurate gauge of environmental impact, especially where greenhouse gas emissions are concerned?
"Food-miles are a great metaphor for looking at the localness of food, the contrast between local and global food, a way people can get an idea of where their food is coming from," said Rich Pirog, associate director of the Leopold Center for Sustainable Agriculture at Iowa State University.
"They are not a reliable indicator of environmental impact," Pirog said in a telephone interview. "What one would want to do is look at your carbon footprint across a whole food supply chain."
The problem with food-miles is that they don't take into account the mode of transport, methods of production or the way things are packaged, and all of these have their own distinct impact on emissions of carbon dioxide, a climate-warming gas.
Read More -->