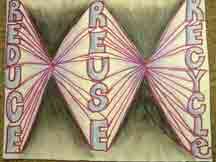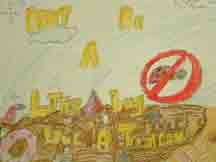 Picture-perfect posters at Trimble Middle School
Students at Trimble Middle School have announced the winners of a school-wide poster contest conducted by the "Follow Your Dreams" Youth Act group. The contest, which accepted entries during December, was designed to educate students about the negative effects of littering. The winners are: Jennifer Gardner (eighth grade), Tia Trianna (seventh grade), and Amanda Arnold (seventh grade), who got an honorable mention.
Of the contest, winner Jennifer Gardner said, "It was cool doing the poster. I hope other people will learn not to litter so our town will look pretty."
Youth Act is a youth grant-making council made up of seventh- and eighth-grade students at Trimble Middle School.
Huff Run Watershed* Action Plan Endorsed by Ohio EPA
The Ohio EPA and the Ohio Department of Natural Resources have endorsed the Huff Run Watershed Restoration Partnership's (HRWRP) watershed action plan. That means that the state has made a firm commitment to help HRWRP clean up Huff Run!
The chiefs of both agencies noted in a letter to HRWRP, "We are well aware of the challenges and demands associated with watershed action plan development. Our full endorsement of the plan specifically recognizes the commitment of the local watershed partners." Congratulations, Huff Run!
*What's a watershed? Click
here
.
Last Chance for Participating in Septic System Upgrade Cost-Share Program

Homeowners in critical areas of Oakdale, Hollister, Congress Run, Greens Run, Millfield and Redtown may be eligible to receive cost-share money to install or upgrade their septic systems. For more information, see the
brochure
.
Please note: You must be entirely finished with your upgrade and have all paperwork complete by March 31, 2006 to receive reimbursement.
Teaching peace in Appalachia
This week's podcast* features Christine Truly of the Appalachian Peace and Justice Network. Listen in as she explains how teaching Amesville kids how to resolve conflicts peacefully resulted in fewer school disciplinary problems.
SNEAK PREVIEW
:
The
Rural Rambler's
podcasts will be getting new bangs and whizzes soon. Stay tuned…
*A "podcast" is a digital recording of a radio broadcast or similar program, made available on the Internet. You do
not
need a personal audio player (i.e., an iPod) to listen to a podcast. Just click on the "play" button on the left sidebar of this page.