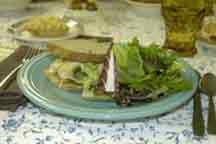 Community members invest in Rural Action at fundraising events
Rural Action hosted a fundraising breakfast and luncheon November 16 at the American Legion in Athens. Both events were highly successful. More than 250 community members attended; collectively, they contributed more than $20,000 to Rural Action, in addition to gifts pledged for the next five years!
Local food was featured at both meals. Want to learn about the lessons Rural Action has learned from using local food at our events? Click here for an article by AmeriCorps*VISTA member Charlie White, who works with Rural Action Sustainable Agriculture.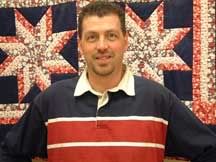 Rural Action welcomes new Director of Conservation-Based Development
Should we protect the environment or create jobs? For Dennis Hosack, the new Director of Conservation-Based Development at Rural Action, that's a false choice. "I'm realistic in understanding that people have to make a living, and there are ways to do that while maintaining natural resources," he says.
Hosack, of Granville, Ohio, was hired by the organization to oversee the Rural Action's program in Conservation-Based Development. This week, Hosack began working with farmers and foresters in the region to promote a strong economy that does not harm the environment. Read his complete biography by clicking here.
Dollars for Huff Run…
The U.S. Environmental Protection Agency has chosen the Huff Run Watershed Restoration Partnership, one of four watershed groups sponsored by Rural Action, to receive a $711,301 Targeted Watershed Grant. The Huff Run group is one of only 12 organizations nationally to receive the grant, which are to be used for innovative water quality protection projects. Read the front page
New Philadelphia Times Reporter
article
here
.
…and for Monday Creek
Up to $20 million should soon be invested in Monday Creek clean-up efforts. The money, provided by state and federal governments, was obtained through the U.S. Army Corps of Engineers. It will pay for 178 projects to clean up the creek, which has been severely damaged by abandoned coalmines in the area. Want to know more? Click
here
for the
Columbus Dispatch
article.
USDA seeking comments on 2007 Farm Bill
Time is running out to comment to the U.S. Department of Agriculture on what to include in recommendations for the 2007 Farm Bill. The Farm Bill is omnibus multi-year federal legislation that deals with federal farm support, food assistance, agricultural trade, marketing and rural development policies.
The department is soliciting comments pertaining to six issues: 1) the competitiveness of U.S. agriculture in global and domestic markets; 2) the challenges facing new farmers and ranchers as they enter agriculture; 3) the appropriateness and effectiveness of the distribution of farm program benefits; 4) the achievement of conservation and environmental goals; 5) the enhancement of rural economic growth; 6) opportunities to expand agricultural products, markets and research.
To comment, send an email to
farmbill@usda.gov
or a letter to Secretary of Agriculture Mike Johanns, Farm Bill, 1400 Independence Ave SW, Washington , DC 20250-3355. The deadline for comments is December 30, 2005. The full request for comments can be seen in the Federal Register, vol. 70, no. 116, Friday, June 17, 2005. For more information please contact Rural Action Sustainable Agriculture Coordinator Tom Redfern at
tomr@ruralaction.org
or 740-742-4401.