Make A Difference Day 2005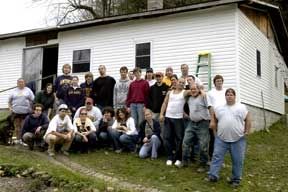 Rural Action VISTAs in partnership with ReUse Industries teamed up with Rural Appalachian Housing Development to do emergency home repairs for a family in need in celebration of Make a Difference Day 2005. While Make a Difference Day came a little later for us this year (because of foul weather we had to move our project from the normal October 22 to November 4) that did not matter to the family who received the much-needed help. Over 40 volunteers showed up last Friday to make a difference in the lives of one family living here in southeast Ohio. "It just makes me want to cry knowing there are people out there willing to help others in need," said the homeowner who received the repairs. Thank you to everybody who assisted us with the fundraising it took to do this project. We could not have done it with out you!
Regional Entrepreneurship Meeting


Jenni Dailey, founder of Dailey's Treasures, speaks at the Regional Entrepreneurship Network meeting about the challenges facing local entrepreneurs.
The first meeting of the Appalachian Ohio Regional Entrepreneurship Network convened at the Athens Community Center on October 31. The purpose of the meeting was to launch a network of innovators, nonprofit organizations, and government officials to strengthen support for entrepreneurs in Appalachian Ohio.
To read more about the Regional Entrepreneurship Network, click here. To join, contact Jane Forrest Redfern at
ren@ruralaction.org
.